Yefferson Huaman is an icon of chicha art – and we now have a poster made by the man himself!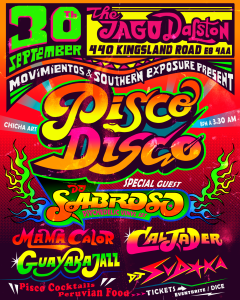 In 1960s & 70s Peru a new form of music was sweeping the nation's capital, this music was named after a pre-Hispanic fermented corn drink, this music captured the minds and spirit of young urban Peruvians, this music was Chicha. Inspired by indigenous Huayno music, brought to Lima by migrants from the Amazon and Andes, Chicha took this ancient traditional music and combined elements of Cumbia, surf rock and psychedelia to synthesise a golden era for Peruvian music. Led by now legendary acts like Los Destellos and Juaneco Y Su Combo, Chicha ascended and became the pre-eminent popular music in Peru.
This musical rise was accompanied by a boom in colourful, loud, brash bold posters to promote the shows. The distinctive style was born of the inherent clash between Peru's indigenous and colonial styles and has long been associated with the country's working class – Chicha art is a representation of unabashed cultural pride and power. The art form expanded from exclusively posters to other, more independently expressive mediums like murals and paintings. It now stood as an art unto itself: proud, political and auspicious. 
One of the contemporary leaders of Chicha is the legendary Yefferson Huaman. His fluid lettering and rich vivid imagery has pushed the medium forward in the 21st Century and has cemented his reputation as one of the greats in the genre. Movimientos are humbled and elated to announce that this master has offered his skills and created a Chicha poster for our event Pisco Disco at The Jago Dalston! We happen to think it looks incredible. Take a look!