We super excited to share our late summer / Autumn schedule – and a fitting way to celebrate the Movimientos 18th aniversario – over the years putting on countless grassroots and international live music shows, events and club nights … and we continue!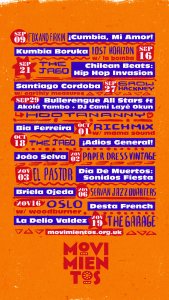 Appropriately we are kicking off the celebrations with a big Cumbia party THIS FRIDAY followed the week after by a journey to Bristol with the mighty Kumbia Boruka.
We are also co-hosting two very special events to mark 50 years since the military coup in Chile – one a Chilean Hip Hop special and the other celebrating the songs of the Chilean rock bands who drove the sounds of a new counterculture in the 80s.
There's breathtaking Brazilian music with new generation artists Bia Ferreira (alongside our friends at Mama Sound) and João Selva. Experimental sounds from Argentina with Santiago Cordoba.
Special guests from Colombia are arriving to join Bullerengue crew Akolá Tambó at Hootananny alongside one of our favourite DJs Cami Layé Okún for a big party at our Brixton home.
And we are delighted to host a UK debut for Colombian singer songwriter Briela Ojeda (tickets on sale this Thursday) for a very intimate show.
Further into November two very hot tickets are one of our favourite UK Latinx artists Desta French with a rare London show … as well as HUGE Argentinian Cumbia orchestra La Delio Valdez for the UK debut!!!
Not forgetting a special guest from Mexico joining the party for a Día de Muertos fiesta in Soho (more details soon!)
Thanks to all our partners and the venues for their collaborations and of course our audience for your amazing support – in the current climate it's not easy putting on these shows so feel free to share widely.