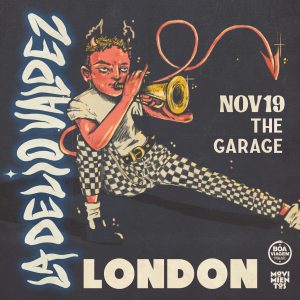 La Delio Valdez – the monster 15 piece Cumbia orchestra from Argentina – are set to play in London for the very first time during the fall of 2023!
La Delio Valdez takes up the great orchestral tradition of the continent. Its cooperative organization refers to the historical Argentinian Tango Orchestras; its theatricality on stage brings up the great Caribbean Orchestras, embracing powerful and overwhelming sound and dance as their main style feature. 
Hailing from Argentina, La Delio Valdéz has captivated international audiences with their infectious melodies, infectious beats, and dynamic stage presence. With their fusion of traditional cumbia, salsa, reggae, and rock, the band has become recognizable and irreplacable within the global music scene.
Movimientos is honored to present the band for their very first time in London with the Garage in North London providing an ideal setting for fans to immerse themselves in the vibrant rhythms and electric atmosphere that La Delio Valdéz is known for. 
With their infectious grooves and captivating stage presence, La Delio Valdéz guarantees a night filled with joy, dance, and celebration.
Date
Sunday 19th November 2023
Time: 7pm - 10:30pm
Venue
The Garage, 20-22 Highbury Corner London , London N5 1RD