Bringing the sounds of Mexico to the fiesta are the 9-piece cumbia band Kumbia Boruka. Their roots are to be found in Monterrey, the cumbia capital of Mexico, where Hernan Cortés, their accordion player and band leader, grew up he later learnt to play the accordion from the living legend of Mexican cumbia, Celso Piña, but he was also the percussionist in Piña's band during many tours.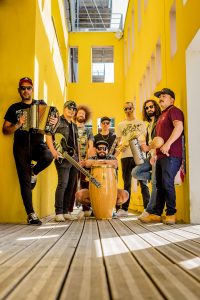 Their unique 'nueva cumbia' sound mixes their own contemporary and festive compositions whilst bringing new flavours to classic cumbias with influences from reggae, dub, African music and Peruvian Chicha. All expertly put together with an extensive rhythm section and powerful brass arrangements, as well as a fierce Latin energy that will blow your mind!
With two albums and more than 300 shows, Kumbia Borukas's music also appears on the soundtrack of the excellent Netflix documentary series Maradona in Mexico launched last year.
The 'Remedio' that Kumbia Boruka offers is an authentic and compelling cure against the evils of our time – to be enjoyed without moderation!
Date
Saturday 16th September 2023
Time: 10pm-3am
Venue
Lost Horizon, 1-3 Elton Street, Bristol BS2 9EH